My Online Stamp Class is in full swing!
I would love to have you join me!
HERE'S THE INFORMATION!
WOO HOO--it's May and that means the new catalog is being released.
Get excited for June......that is when the new catalog starts and we will be using a brand new set for our club!!!! I can't wait!
Please place your order, on-line at:
www.sharonarmstrong.stampinup.net
You need to enter this code:
XDNZJMEB
When ordering, it will ask if you have a "Hostess Code," that is where you enter it. It is on the checkout page on the bottom left hand side of the screen.
Order must be placed by

midnight, MAY 10th
THIS MONTH'S PURCHASE IS:
HELLO LOVELY (pg 22 Annual Catalog)
(Wood): 130240, $32.95
(Clear): 130243, $24.95
NOTE: if you'd rather purchase other products, your subtotal must be at least $24.95 this month.
This month I have used several punches on the cards. These are all pretty "standard punches" that I think most of you have. If you don't, you could actually "cut out" this images with a scissors. If you don't have the punches, and would like to add them to your order here is a list of all the punches used this month:
1/2 Square
Postage Stamp (this one will be pre-punched for you)
Decorative Label
1" Circle
Extra Large Oval
This month we are also focusing on the 2013-2015 In-Colors. Again, I know that most of you have these colors already, but if you don't, you have a couple of options. You could use other colors you have that match/coordinate or, if you like them, this is the month to get them! If you have not purchased any of these pads yet, and want them, the best deal is the Cardstock & Pad kit that includes the 5 colors and 20 sheets of cardstock for $29.95 (and then a $8.99 rebate) The colors are:
Strawberry Slush
Baked Brown Sugar
Coastal Cabana
Pistachio Pudding
Crisp Cantaloupe
INCLUDED IN YOUR FREE CARD KIT:
All pre-cut cardstock to make 6 different cards
All Pre-embossed using Stampin' Up! Embossing Folders
A PDF of instructions
A YouTube Video for each card
Envelope liners are not included in the kit, however I wanted to show you how cute it looks! If you don't have the Envelope Liner Framelits--add to your wish list! I line every envelope I send out. I think it truly completes the look!
Here's the cards for this month: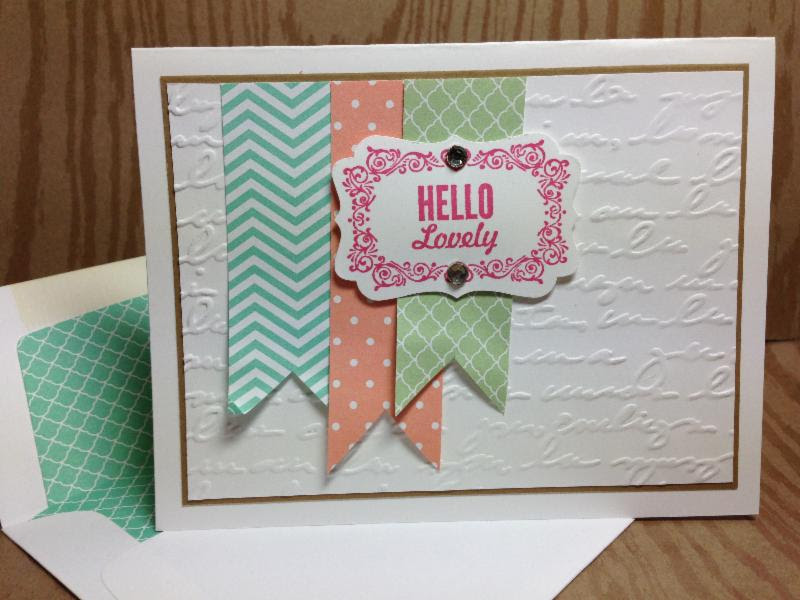 You asked for it.....you got it.....
As a class member, you can purchase additional kits
for just $10 (not bad for 6 cards & envelopes!)

To Order, you will paypal the $10 to me using www.paypal.com

use sharon@txstampin.com as the address to make payment to!

As always, if you have ANY questions, suggestions, or comments.....I love to get them!!!!
Make sure to place your order by
May 10th
AND DON'T FORGET TO ENTER THE HOSTESS CODE.
PS...I will be cruising on Stampin' Up! Incentive Trip from May 4 - May 11th.
I will answer your questions when I return!

Rubber Hugs
Sharon Armstrong